About us:
We live in far East Gippsland Australia, on the edges of many National Parks.
We have a mild climate near the ocean. Our property is large enough (just under 5 acres) to allow some serious gardening. We hope to share some of our experiences with you.
I am, sadly, getting too old and stiff to do a lot of the jobs I loved, so I have found another gardener. Young, fair, and skilled in the arts. I will be leaving Jasmin a message under this heading: For Jazz
I wouldn't presume to leave Graham or Judy a note, they are running the show already!
With the help of my partner Graham and my dear friend and gardener-landscaper Judy I m very fortunate indeed to have such a great team.      
It is Spring here and every Callistemon and grevillea is in full flower. We have four seasons in one day, so it's raincoats alternating with sunhats on most days. As this is Camelot, it mainly rains at night! As I am writing this it is hailing outside…oops!
Callistemon(bottlebrush) Although an Australian native This one is not indigenous here, some follow that are.) If you are going to be living here and want a truly native garden some locals can help you!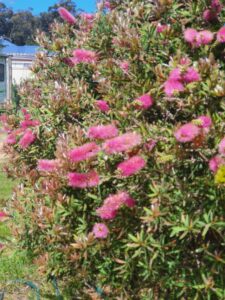 Weather held off, just some of our Spring windy weather. The garden is quite protected, so I was suprised when I went shopping and was nearly blown away.
Jazz did a great job on the gardening. Judy and I out in it today again I hope. I managed over 3 km walking yesterday.Not TOO sore!Check out the Facebook link for details on our OWN special freshwater crayfish. I'd vaguely heard of it, but had't really paid attention. See, told you Mallacoota was special.
This week (28.11.2022) we are setting up fruit fly traps (soft drink bottle with holes bored in the neck and either yeast and water or vegemite and water in the bottom! Tied around our tomato patch and the orchard. Update: vegemite and water won hands down, adding to other bottles!!
Telling the difference between kidney weed and native violets.
More callistemons and sweet myrtle in.
First cabbage moths, spray with Dipel, from Yates. Biological and non toxic. Learnt about "vegetable caterpillar" and check out tongue orchids and scats and fledged Peregrine Falcons on fire road.
Where have all the dragon flies gone this year?
My Mum and cicadas. Was she right, do they start singing at 28 deg.c or is it a folk tale? Not a folk Tale, she was correct.
When do cicadas sing?
3/12/2022
Geat days in the garden this week. Starting to water as we have not had the rain. First tomatoes by Christmas? We ar a bit worried about the lush undergrowth everywhere around Mallacoota and in the bush. Glad to see the council are doing verges and locals busy mowing their grassy paddocks. Having been through the nightmare of a totally out of control bushfire, (which we are still reeling from), I hope we are not heading for another.My cacti are out. Fleeting in flowering but like the finest silk.
7.12.2022
We had a wonderful storm, complete with bolts of lightning and very strong winds. After dark for more effect. Power cut ws instantly fielded by our battery/genrator back up system. Great work!
Next day very high winds ( 75kph registered at Gabo Island I believe. Minimum damage to the garden, just everything covered in a carpet of gumleaves blow-dried currawongs(fluffed up and anxious looking). Some cahirss and loose pots went over. Graham has just cleaned up the back lawns and the paths, nearly back to normal. Hope to see my little gardeners tomorrow or early next week. Need to get outside. Have spent way too much at "Diggers" (arm chair gardening!)