About us:
We live in far East Gippsland Australia, on the edges of many National Parks.
We have a mild climate near the ocean. Our property is large enough (just under 5 acres) to allow some serious gardening. We hope to share some of our experiences with you.
I am, sadly, getting too old and stiff to do a lot of the jobs I loved, so I have found another gardener. Young, fair, and skilled in the arts. I will be leaving Jasmin a message under this heading: For Jazz
I wouldn't presume to leave Graham or Judy a note, they are running the show already!
With the help of my partner Graham and my dear friend and gardener-landscaper Judy I m very fortunate indeed to have such a great team.
Jazz now joins our team to learn about gardening and the maintenance of a house and garden(and dealing with a cranky old woman!)
What  great journey is ahead.      
It is Spring here and every Callistemon and grevillea is in full flower. We have four seasons in one day, so it's raincoats alternating with sunhats on most days. As this is Camelot, it mainly rains at night! As I am writing this it is hailing outside…oops!
Callistemon(bottlebrush) Although an Australian native This one is not indigenous here some follow that is.) If you are going to be living here and want a truly native garden some locals can help you!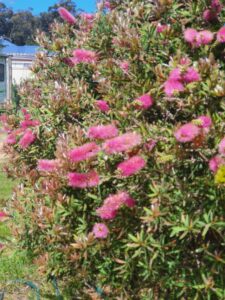 Weather held off, just some of our Spring windy weather. The garden is quite protected, so I was surprised when I went shopping and was nearly blown away.
Jazz did a great job on gardening. Judy and I are out in it today again I hope. I managed over 3 km walking yesterday. Not TOO sore! Check out the Facebook link for details on our special freshwater crayfish. I'd vaguely heard of it, but hadn't really paid attention. See, told you Mallacoota was special.
This week (28.11.2022) we are setting up fruit fly traps (soft drink bottles with holes bored in the neck and either yeast and water or vegemite and water in the bottom! Tied around our tomato patch and the orchard. Update: vegemite and water won hands down, adding to other bottles!!
Telling the difference between kidney weed and native violets.
More callistemons and sweet myrtle in.
First cabbage moths, spray with Dipel, from Yates. Biological and non toxic. Learnt about "vegetable caterpillar" and check out tongue orchids and scats and fledged Peregrine Falcons on fire road.
Where have all the dragon flies gone this year?
My Mum and cicadas. Was she right, do they start singing at 28 deg.c or is it a folk tale? Not a folk Tale, she was correct.
When do cicadas sing?
3/12/2022
Geat days in the garden this week. Starting to water as we have not had the rain. First tomatoes by Christmas? We ar a bit worried about the lush undergrowth everywhere around Mallacoota and in the bush. Glad to see the council are doing verges and locals busy mowing their grassy paddocks. Having been through the nightmare of a totally out of control bushfire, (which we are still reeling from), I hope we are not heading for another.My cacti are out. Fleeting in flowering but like the finest silk.
7.12.2022
We had a wonderful storm, complete with bolts of lightning and very strong winds. After dark for more effect. Power cut ws instantly fielded by our battery/genrator back up system. Great work!
Next day very high winds ( 75kph registered at Gabo Island I believe. Minimum damage to the garden, just everything covered in a carpet of gumleaves blow-dried currawongs(fluffed up and anxious looking). Some chairs and loose pots went over. Graham has just cleaned up the back lawns and the paths, nearly back to normal. Hope to see my little gardeners tomorrow or early next week. Need to get outside. Have spent way too much at "Diggers" (arm chair gardening!) A prt of a day in the garden, at least. Hopefully Sunday will be OK. We had 1 inch of rain in that storm.
It is truely amazing what the non arrival of one person to garden can do to the week. So far it has effected six people who have been obliged to change their calendar..the domino effect! Whats that? "the journey is the important part" ?? I guess so. Just dug up my zuchinni seed, after a week of non germinaton. One has swelled slightly, that's it. Graham has gone "up the coast" but forgotten his phone. I am sending him telepathic pleas to bring back some plants. What a weird season.
14.12.2022
Still raining, interspersed with blinding sunshine,rainbows and overwhelming storms with cloudbursts!
Some of our callistemons have sooty mould and we have actually been issued with a fire order from our Shire!! That will be interesting. Calla llies blooming, second flush on roses and very miserable capsicums. Thought we had our first ripe tomato but it had just "riped" by being split in the rain. A bowerbird found its way into the orchard and ate our measly crop of cherries!! The wind thinned out the plum trees (which were totally over burdened with fruit anyway. Graham helped by shaking them as well!) Ah, Summer of mellow fruitfulness,here you come.
I will continue this in February,after our busy season.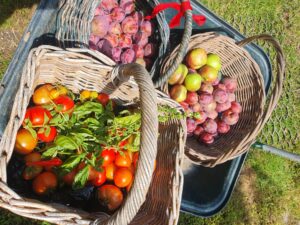 Well, thats February! Tomatoes sad, only small varieties came to anything. Zuchinni now starting. Plenty of cucumbers..not worried, we love bread & butter pickles,Tzatziki, salads.Great cooked in stirfries.  So many other uses too. 
The lawns are drying off , even in our fairly mild Summer. As the chain has come off the ride on mower I don't think Graham is feeling upset at all. Nearly time to start putting peas in again. Love the seasons,all of them. Happy gardening XX
Into March, made the sweetpeas planting on the traditional day(St Patrick's)
First two weeks of March saw me with bad shingles, despite being immunized. Do have a look at the flora & fauna link for some great articles by locals on our wonderful area. Late hot days, crazy water bill due to lots of new native plantings and the dear sweet King parrots have "found" camellia buds to their liking and forcefully opened most of them. Pity, the flowers are a good source of food for our honey eaters and sessions of bird watching as the tree is in front of our lounge room windows. Oh well, no pruning of camellias is needed this year!
April 2023
Days are vivid and warm, but the nights are getting cooler. Thoughts turn to firewood. At the moment the lyrebirds are courting and playing on the stacked logs for this year.
Repotting the Cymbidium and Oncinium orchids. Rose and citrus food time. Graham has seen long-nosed bandicoots, the first since our fires. Little "drill holes" in the lawns.